Differential Amplifier with two Op Amps:
The gain as well as input resistance of the differential amplifier can be increased by using two op-amps. The characteristics of such an amplifier are identical to those of a noninverting amplifier. A practical circuit using differential amplifier with two op amp is given in Fig. 34.46.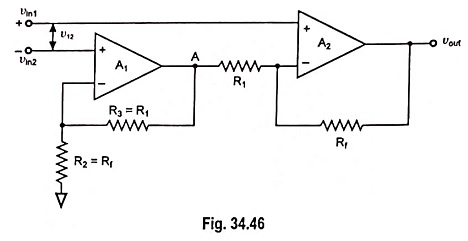 The circuit is composed of a two stage amplifier, the first stage being of a noninverting amplifier and the second being of a differential amplifier, both having gains of different values.
Equations of First Stage and Second Stage:
The output of first stage,

Output from second stage,

Since R3 = R1 and Rf = R2, we have

Voltage gain,

Input Resistance: Input resistance of first stage,

where Rin is the open-loop resistance of op-amp, as first stage is noninverting amplifier

With vin2 grounded i.e. vin2 = 0, the second stage also becomes a noninverting amplifier whose input resistance may be given as

where Rin is open-loop resistance of op-amp


Drawbacks:
The output signal may be of smaller magnitude than expected. This is a drawback of such an amplifier.