Current Source Inverter with Forced Commutation:
Current Source Inverter with Forced Commutation – As has already been discussed, the disadvantages of machine commutation are
(a) limitation on the speed range
(b) the machine size is large and due to overexcitation it is underutilised.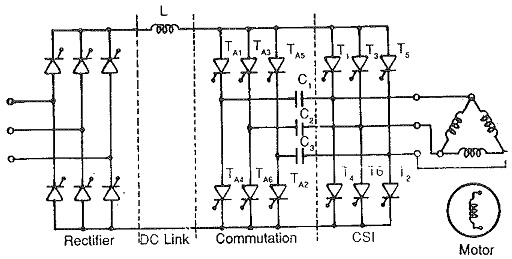 CSI with individual commutation for feeding synchronous motor.
1.used for providing commutation at low speeds
2.synchronous motor may be operated at UPF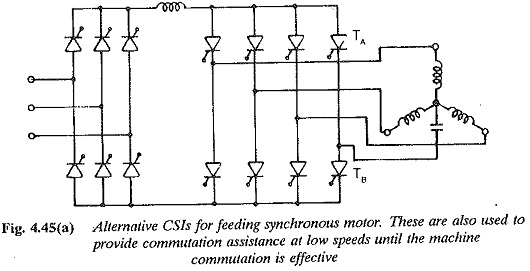 Third harmonic ASC CSI for use with synchronous motor at low speeds for starting.
Sometimes it may be required to provide forced commutation for the in­verter. Obviously the speed range can be extended from zero to base speed. The discussion regarding regeneration, harmonics and torque pulsations hold good for this case also. The line power factor is poor. However the machine is operated at UPF to obtain the advantages already discussed. The cost of the inverter increases due to forced commutation. The efficiency of the drive is good and it is popular as a drive in the low to medium power ranges in CLM mode. The drive cannot be operated in open loop. Stability improves in CLM mode. The problem of voltage spikes is present here also and commutation is simple.