Decentralized Control System Definition and Techniques:
Decentralized Control System – In view of the large size of a modern power system, it is virtually impossible to implement either the classical or the modern LFC algorithm in a centralized manner.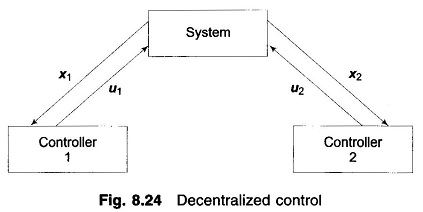 In Fig. 8.24, a Decentralized Control scheme is shown. x1 is used to find out the vector u1 while x2 alone is employed to find out u2. Thus.

A systematic design of the decentralized tie-line bias control solution has been shown possible using the modal control principle.
Decentralized Control or hierarchical implementation of the optimal LFC algorithms seems to have been studied more widely for the stochastic case since the real load disturbances are truly stochastic.
It may by noted that other techniques of model simplification are available in the literature on alternative tools to Decentralized Control. These include the method of "aggregation", "singular perturbation", "moment matching" and other techniques for finding lower order models of a given large scale system.